One Day Coloured Pencil Workshops
This series of workshops begins with the basics of coloured pencil techniques and then gives students the opportunity to work on projects, to try out different surfaces and "paintings". Each day is filled with exercises, tips and demonstrations that build and expand on the previous class. Lots of fun and laughter makes that creative process a great learning experience. The cost of each workshop is $75, which includes paper, coffee, tea and snacks. Classes are held on Saturdays from 9 am to 4 pm and spaces are limited, so register early to confirm your space. Supplies required: a set of Prismacolor Premier pencils (minimum 48), kneaded eraser, regular eraser (white or pink), pencil for drawing ( HB), a soft brush ( large make-up brush from Dollarama works well!) , pencil sharpener, your lunch and a sense of adventure!
Winter 2020
Allison is taking a sabbatical from the Part 4 series until further notice .
All classes are held at the artist's bright and whimsical in-house classroom, located at:
40 Drainie Drive
Kanata, ON K2L 3J9
613-592-6959
Supply information: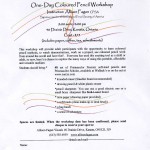 To register for a class or for more information, please call or send an email to allisonfagan@rogers.com
Please note these dates were revised on July 22, 2019.
______________________________________
One Day Studio Workshop
The Studio Workshop Series was created for graduates of Allison's series of one day Coloured Pencil Workshops. For those who have explored the coloured pencil techniques taught in Parts One to Four, this is your opportunity to further develop your talents through Allison's mentoring.
You will bring your own project to Allison's studio or she can provide material. She will coach, monitor, and encourage you as you create a "painting" from a subject that you have chosen. Every class begins with an exercise. The participants in the Studio Workshop will be limited to eight so you will receive very personalized and tailored lessons from Allison. Much laughter and fun at no extra charge!! The cost of this workshop is $70.
Winter/Spring 2020
Saturday, January 11
Tuesday, January 14
Saturday, February 8
Tuesday, February 11
Saturday, March 7
Tuesday, March 10
Saturday, April 4
Tuesday, April 7
Saturday, May 2
Tuesday, May 5
Saturday, May 30
Tuesday, June 2
Saturday, June 27
Tuesday, June 30
Studio days are $70 each. Sign up now and don't be disappointed! To register or for more information, please call Allison at 613-592-6959 or send an email to allisonfagan@rogers.com
Colour In the Lines
Do you have one of the beautiful colouring books on every newstand and in every book store? How would you like to make your pictures look lush, shiny, 3-D, vibrant and just plain beautiful? I am offering a one-evening workshop to share simple coloured pencil techniques that will bring your art to a new level! Bring along your book and pencils and I'll provide a technique sheet, a cup of tea or decaf and 2 1/2 hours of learning and fun. $35 per person. Limited space.
2019 date to be announced….let me know if it interests you!
6:45 to 9:15 pm at the artist's in home classroom. A great Christmas present ( gift certificate available). Email to register now: allisonfagan@rogers.com
Which side do you prefer? You can learn these tricks easily!